I decided to write a short story of what I have been able to find during my family research. I will start with my father's oldest brother, my Uncle Wasyl Iwaniw, because it's essentially because of him that I started researching my family history.
My Uncle Wasyl, pictured here, was born in Lutowiska, Galacia (a part of the Austro-Hungarian Empire in what was Western Ukraine and now a part of Poland) on 20 April, 1903 to Michael Iwaniw and Matrona Iwaniw (nee Smoliw). When I was growing up I was told that Uncle Wasyl disappeared during the German occupation of Ukraine during WWII. My father told me that no one knew what happened to him or ever saw or heard from him.
I started my family research in hopes of finding out more about my Uncle Wasyl. I started by building a foundation of information and always keeping an eye out of new resources and sources of information. In conducting my research I was able to locate embarkation information for my parents when they left Germany after WWII and the address where they lived in Ulm Germany while they were waiting approval to enter either the United States, Canada, or England.
Some time ago I was made aware of a source of data records pertaining to labor camps from the WWII period. I started out by searching out any information pertaining to my parents, specifically, my father. What I ended up finding was information about 2 of my father's brothers, one of whom was my Uncle Wasyl. I detailed it in a previous post on this blog. I was rewarded with information about both of my father's brothers, Wasyl & Mykola. But let's focus on what I found out about Wasyl.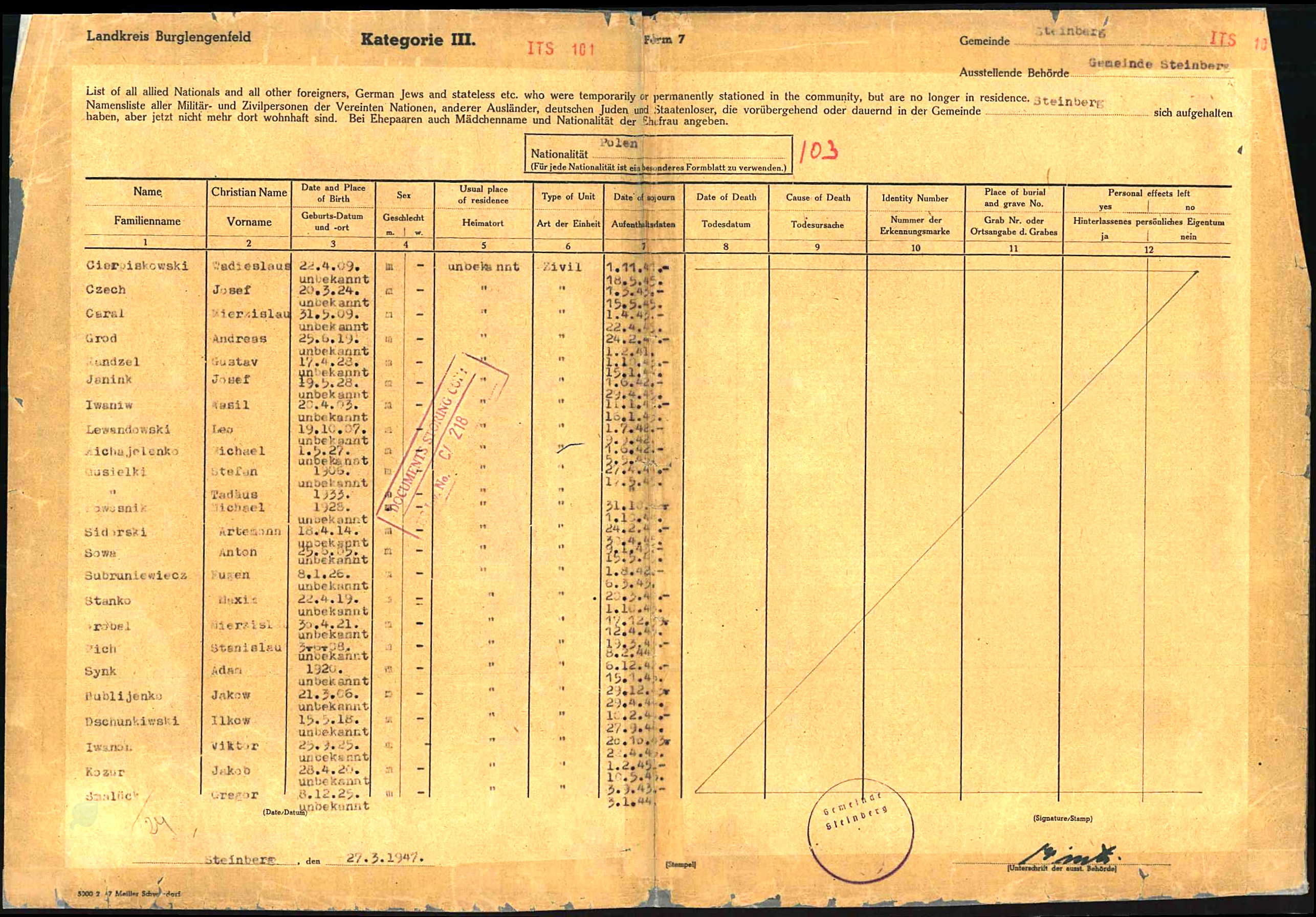 The record (shown above) that I found was for Steinberg Germany. The description of the record is "List of all allied Nationals and all other foreigners, German Jews and stateless etc. who were temporarily or permanently stationed in the community, but are no longer in residence." So, I took this to mean that my uncle resided there but as of 27 March 1947 was no longer living there. The records give the person's surname, first name, place of birth, date of birth, type of housing unit, date of sojourn (stay or visit), and other details which are not completed. It looks like this information was compiled from other German records that only gave partial information.
This record shows that my Uncle Wasyl (record #7) was listed as Iwaniw, Basil (another version of Wasyl), lists place of birth as unknown, born on 20 April, 1903. It also shows he was in Steinberg as of 29 April 1943. It also shows him listed as a civilian but says his usual place of residence was unknown. The record give no indication of what happened to him after he left or was removed from Steinberg.
This now gives me another research project to find out whatever I can about the area around Steinberg to get a better idea of what other records may be available. This is in addition to find out what I can about the area around Sumingen Germany. I will next detail the record I found on my other uncle, Mykola Iwaniw.